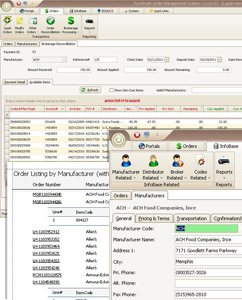 Order Management Software with Seamless Integration
With over 30 years of Food Service Order Management experience, we know how to do it right so you can easily and accurately processes orders with the touch of a button. It is all about seamless integration with your trading partners and sales force. Your manufacturer and distributor partners receive error free transactional data and your sales team gets instant access to the essential data they need.
Our Order Management Software features:
Advanced EDI Processing
Automatically processes transaction with no errors
Provides the ability to view and correct inbound records that show problems
Reduces processing time
A web based platform
Allows you to easily share data with your trading partners
Allows you to easily integrate the data with your sales team portal and relationship management tools
Frees up your budget to hire more sales staff because the hardware investment and maintenance is done on our end. 
Click of a Button Reporting and Easy Data Extraction
Easily generate reports and email them with a one-click process approach
Extract data into  Excel, PDF, CSV, TXT. files to share with your staff and trading partners

Import Data Capabilities
Easily imports product, pricing, invoices, promotional and other data directly into your system
Call us today at 716-819-6600 for a free demo of our software and to discuss how we can help you.